The symbol of your impact.
Made of 304 stainless steel, your SIDER bottle is reusable. You limit your consumption of single-use plastic.
A real everyday accessory, SIDER will also delight your loved ones for an ideal gift.
At work, in class, at sports, on trips, on hikes, and at home, your SIDER bottle is aways at your side.
Perfectly sealed, SIDER keeps your drink at the desired temperature for 12 hours for hot drinks, and 24 hours for cold drinks.
You are contributing to sustainable development at your own level, while supporting community life by contributing to a large-scale project in South Africa.
We commit ourselves to donate 5 CHF to the Ikamva Design association.
which works with seniors and artisans in these communities by creating job opportunities for them.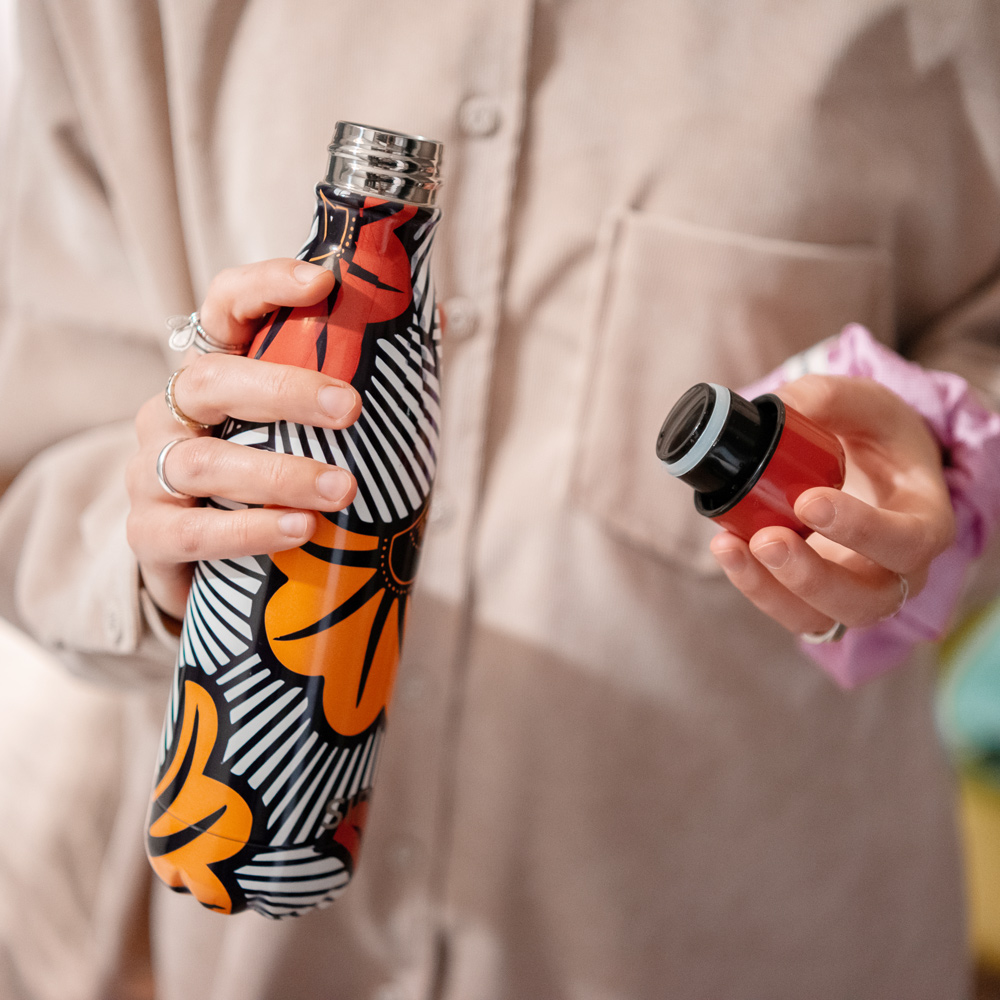 Why the SIDER bottle is made for you :
+ Insulated bottle
+ Capacity: 500 ml
+ Weight: 300 g
+ Keeps 12h hot
+ Keeps 24h cold
+ Stainless steel 304
+ Odorless
+ BPA-free (Bisphenol A)
+ Perfectly waterproof
+ Easy to transport
Before using for the first time: clean with warm water and soap, using a non-abrasive support, to remove any possible odor due to the packaging.
Clean before each use with warm water and soap, using a non-abrasive surface.
Do not put in the dishwasher, conventional or microwave oven, or freezer.
Dry upside down.
Do not exceed the filling capacity (liquid could become lodged in the cap and leak if the bottle is filled to the brim).
Beware of hot drinks that can burn: use the product with care.
Close the cap properly and completely to ensure that the product is watertight.
Store with the container open.
Transport in upright position is recommended.
Shocks, drops or rubbing may damage the product.
Our products are manufactured according to the strictest technical standards. We guarantee you a sustainable and quality product. Should the slightest problem occur with your order, contact us at info@sider-bottle.com and we will find a solution to your problem together.
SIDER: Our bottles are here with you every day & in your great adventures
"La bouteille est vraiment extra, non seulement les couleurs sont magnifiques mais la chaleur tient toute une journée au boulot."
"Ils ont adoré le design et ma petite fille l'utilise pour aller à la gym, elle était contente."
"Après avoir testé la bouteille en ski la semaine dernière, je dois vous avouer que j'étais très très étonnée par sa qualité. En effet, le chaud a été conservé très longtemps dans cette bouteille! J'en suis ravie!"
"Les bouteilles sont tout simplement top !"